The spring school holidays are nearly here, and Christchurch offers plenty of opportunities for fun and entertainment.  Here are some fantastic family activity ideas to consider when planning outings and adventures in Christchurch: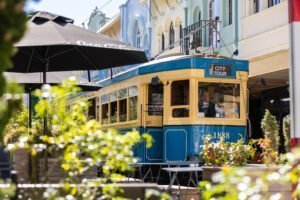 Christchurch Tram: Begin your day with a ride on the iconic Christchurch Tram. This beautifully restored heritage tramway takes you on a journey through the heart of the city. Kids will love the vintage charm of the trams, and parents can appreciate the informative commentary about the city's history and landmarks. You can hop on and off at various stops, including Margaret Mahy Playground, Punting on the Avon and the Botanic Gardens, making it a convenient way to explore the city.
Christchurch Gondola: For panoramic views of Christchurch and its surrounding landscapes, take a trip on the Christchurch Gondola. The scenic cable car ride travels to the top of the Port Hills, offering spectacular vistas of the city, the Canterbury Plains, and the Southern Alps. It's an educational experience too, with the Discovery Ride at the summit teaching visitors about the region's geology and history. There are also plenty of walking tracks to explore.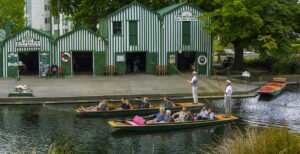 Punting on the Avon: Enjoy the spring blooms by punting along the scenic Avon River. Punting is a relaxing activity that allows families to unwind while taking in the beauty of the surrounding gardens and lush riverbanks, along with seeing the wildlife up close. It's a leisurely way to spend an afternoon together.
Creative Kids Workshops: Many cultural and educational institutions in Christchurch offer creative workshops for kids during the school holidays. Tūranga library and the Christchurch Art Gallery host art and craft activities, storytelling sessions, and interactive exhibits that are both fun and educational. These workshops are an excellent way to keep young minds engaged and learning during their break.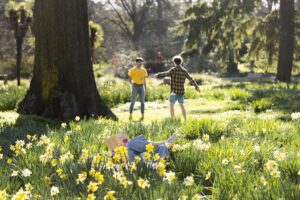 Christchurch Botanic Gardens: Located just metres away from the Christchurch Tram, the Christchurch Botanic Gardens are a treasure trove of natural beauty. In spring, the gardens full of colour as the flowers bloom. Stroll through the Rose Garden, visit the conservatories, and explore the native New Zealand plants in the Fern House. The wide-open lawns are perfect for picnics and games.
Playgrounds and Parks: Christchurch is known for its numerous parks and playgrounds. Let your kids burn off some energy at places like Margaret Mahy Family Playground or Hagley Park, where they can climb, swing, and slide to their heart's content. These spots provide a perfect opportunity for parents to relax while the kids play.
Christchurch offers a wealth of family-friendly activities during the spring school holidays. From exploring the city's history and culture on the Christchurch Tram to embracing the beauty of nature in the Botanic Gardens and at the Christchurch Gondola, there's something for every family to enjoy.