The Christchurch Trams offer a unique experience combining history and sightseeing.
Enjoy a journey in style through the changing face of Christchurch's city centre on board our beautifully restored heritage Trams, one of Christchurch's leading attractions,
Our friendly and knowledgeable drivers will inform you about the city, its landmarks and local sights. Your day-long ticket allows you to get on and off the Tram as often as you please!
The journey takes you to the appropriate stops for Punting on the Avon, the Christchurch Botanic Gardens Tour and the Gondola Shuttle bus.
Cathedral Junction, the Avon River, Gothic-style Arts Centre, the Canterbury Museum and New Regent Street are just some of sights to be seen from the comfort of your Tram, or accessed from the 17 stops en route.
What you need to know

Duration
The full circuit is 50 minutes, with tickets valid for one day

Open hours
Summer: 9am – 6pm daily (September – March)
Winter: 10am – 5pm daily (April – August)

MINIMUM AGE
There is no minimum age but for safety reasons children must be accompanied by a paying adult

What's included
Board at any of our 17 Tram stops, and get on and off with your ticket throughout the day. The Trams run every 15-20 minutes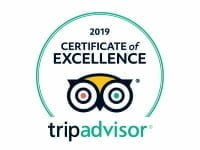 TRIPADVISOR
More than 2,000 reviews on TripAdvisor
What we offer

CUSTOMER SATISFACTION FIRST
We are committed to giving you the best experience possible. Whether you are a visitor to Christchurch or a local exploring your hometown sights, our friendly staff will show you the best attractions the city has to offer.

COMBINE AND SAVE!
Purchase our combo tickets for great discounts:
Combine TWO attractions and save $5
Combine THREE attractions and save $10
Combine FOUR attractions and save $15
Savings valid for adult tickets
Tram Route Map
The journey begins at Cathedral Junction and travels through Cathedral Square before passing the Avon River and High Street. From here the Tram rejoins our Tram loop and passes the Canterbury Museum, Hagley Park, Victoria Square and New Regent Street. There are currently 17 stops along the route.
Our Tramway Restaurant departs from Cathedral Junction at 7:00pm daily March – October and at 7:30pm daily November – February. Bookings essential.
What you need to know
Christchurch Attractions Tram Tour suit all ages.
Board at any of our 17 Tram stops, and get on and off with your ticket throughout the day. The Trams run every 15-20 minutes.
The inside seats are cozy and secure, but please note outside seats are not weatherproof. Children must be accompanied on the Trams at all times by a paying adult. For safety reasons, we allow one adult to supervise up to five children or infants aged 15 years and under. As in any city street, you must keep children safe in traffic. Folded prams can be accommodated on board the Trams.
We have three to five Tramcars operating daily, and have seven Trams in total.
Please note that children are classed as being 5-15 years of age and infants under 5 years of age. Up to three children may ride free of charge per paying adult, and tickets can be purchased for $5 each for additional children. Infants are free of charge.
Group rates apply for school and pre-school groups: please enquire at info@christchurchattractions.nz.
Awards and Achievements