Please note that the Grand Tour is currently closed. We are planning to reopen from October 2022 and we apologise for any inconvenience this closure causes. For any enquiries please contact info@christchurchattractions.nz.
Fully guided by our knowledgeable host, our Grand Tour shows off the best things to do in Christchurch in the most comfortable and convenient way on board our luxury coach. If you're on a tight schedule, get the flavour of our city without fuss on this one-day tour.
This is a fully-guided day trip from 9:30am to approximately 4pm, 364 days a year (closed Christmas Day). Please note that bookings are essential.
We offer complimentary accommodation pick ups from 9am from selected Christchurch accommodation providers.
Transport and entry to all attractions are included in your ticket price. Lunch is not included, but you have plenty of time to enjoy lunch at your leisure at the Gondola's Red Rock Café.
What you need to know

DURATION
6.5 hours

OPEN HOURS
9:30am to 4pm 364 days a year (closed Christmas Day)

MINIMUM AGE
There is no minimum age but for safety reasons children must be accompanied by a paying adult

WHAT'S INCLUDED
Gondola
Tram City Tour
Gardens Tour
Punting on The Avon
Accommodation pickup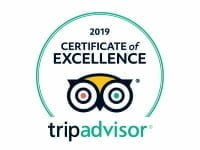 TRIPADVISOR
TripAdvisor Certificate of Excellence 2019 winner
Highlights
Punting on the Avon
Refined, relaxing & romantic – punting on the beautiful Avon River is an iconic Christchurch attraction not to be missed. The waters of the Avon ripple by as you sit back on deep cushioned seats in a classic punt while your Edwardian-dressed punter guides you quietly on a 30 minute ride past trailing willows, woodlands, leafy banks and the sights of the garden city of Christchurch.
Christchurch Gondola
The Christchurch Gondola whisks you into the air nearly a kilometre to the Crater Rim of the Port Hills.  Experience the Time Tunnel, a dramatic reconstruction of the history of the Port Hills and Christchurch. Revive your spirits with a snack at the Red Rock Cafe, and browse what is on offer at the Shop at the Top.
City Coach Tour
Your tour includes a commentated coach tour of Christchurch's inner city by our driver-guide. See the major city sights including the Transitional Cardboard Cathedral, 185 empty chairs earthquake memorial, remains of the Cathedral of the Blessed Sacrament plus the exciting new developments popping up in the inner city.
Botanic Gardens Tour
The Christchurch Botanic Gardens were established in 1863, and host without a doubt the finest collection of exotic and indigenous plants to be found anywhere in New Zealand. While on our shuttle discover the natural beauty, history and culture of this central city oasis while at the same time being taken around the gardens in any weather in comfort and style.
Christchurch Tram
We deliver you to one of our Christchurch Tram stops and present you with a ticket to explore the city centre on the Trams at your leisure. Here you will have as much time as you wish to ride the Trams to see the changing face of the city and listen to our drivers' interesting and informative commentaries. You can also get on and off the Trams at any of our 17 stops to visit nearby attractions such as New Regent Street and the Transitional 'Cardboard' Cathedral.
Highlights
a romantic Punt ride on the Avon River in a classic pleasure craft
panoramic views from the Christchurch Gondola
a tour of Christchurch's famous Botanic Gardens
a ticket to see the central city from the Heritage Tram
We are happy to welcome all ages and abilities on our Grand Tour. Please note that children are classed as being from 5 – 15 years of age with infants under 5 years.
If one of your party requires special assistance just let us know in advance.
For guests meeting the tour at Cathedral Junction or outside the YMCA and needing a car park, there are plenty of all-day parks nearby. We recommend the Christchurch City Council's website for information on car park locations and pricing.
Awards and Achievements