Due to the travel restrictions effective 14 March 2020, the Botanic Gardens Tour will be closed for the winter season effective from 1 April 2020. We will reopen from 1 October 2020 and we apologise for any inconvenience this closure causes. For any enquiries please contact info@christchurchattractions.nz
A visit to Christchurch is not complete until you visit the historic Botanic Gardens. Climb aboard one of our all-weather electric vehicles and tour in comfort. The Christchurch Botanic Gardens Tour is an affordable activity for nature enthusiasts of all ages, allowing you to view some of the best examples of native and exotic flora in New Zealand. { "@context": "http://schema.org",
"@type": "Product",
"name": "Botanic Gardens Tour",
"aggregateRating":
{"@type": "AggregateRating",
"ratingValue": "4.5",
"reviewCount": "92"
}
}

Explore Christchurch's stunning Botanic Gardens. Our tour guides really know their stuff and can answer all sorts of questions. Which trees are best for making bows and arrows? Can corks be made from trees? Do bananas grow in Christchurch?
Leaves entwine and flowers flourish in the steamy tropical heat of the conservatories. Appreciate the outdoor circular Rose Garden containing 150 different varieties. Crush a leaf and smell each herb in the Fragrance Garden. See New Zealand's only World Peace Bell.
A great family activity any season of the year: enjoy the world-famous Botanic Gardens of Christchurch.
What you need to know

Duration
Approximately 50 minutes

OPEN HOURS
We are open 364 days a year (closed Christmas Day)
Summer 10am to 3:30pm (November – March)
Winter 11am to 3:30pm (April – October)

MINIMUM AGE
There is no minimum age but for safety reasons children must be accompanied by a paying adult

Things to note
Dress warmly on the day you go exploring, and wear comfortable shoes.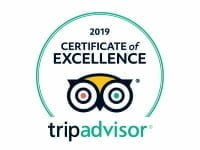 TRIPADVISOR
TripAdvisor Certificate of Excellence 2019 winner
What we offer

CUSTOMER SATISFACTION FIRST
We are committed to giving you the best experience possible. Whether you are a visitor to Christchurch or a local exploring your hometown sights, our friendly staff will show you the best attractions the city has to offer.

COMBINE AND SAVE!
Purchase our combo tickets for great discounts:
Combine TWO attractions and save $5
Combine THREE attractions and save $10
Combine FOUR attractions and save $15
Savings valid for adult tickets
What You Need to Know
Our Botanic Gardens Tour suits all ages. Buy individual tickets or save with a family pass (2 adults & 3 children).
Each of our shuttles holds up to 20 people, and the shuttles make frequent stops. Our all-weather vehicles are easy to board, requiring one step to get on or off, and have safety handrails. The three electric vehicles are also environmentally friendly.
Dress warmly on the day you go exploring, and wear comfortable shoes. For safety reasons, children must be accompanied by a paying adult.
Please note that children are classed as being from 5 – 15 years of age with infants under five years.
Tours begin at 10am (summer only), 11am, 12pm, 1.30pm, 2.30pm, and 3.30pm from the Canterbury Museum entrance to the Botanic Gardens on Rolleston Avenue. Tours are also available at 10.30am (summer only), 11.30am, 2pm, and 3pm from outside the Botanic Gardens Visitors Centre (dependent on seat availability).
Awards and Achievements