Pricing
Adult: NZ$30
Child (up to 3 free per adult): NZ$0
Additional Children(each): NZ$5
Infant: Free
Child Age is 5-15 years
Quick Info
DURATION: The full circuit is 50 minutes, with tickets valid for one day.
OPEN HOURS: Currently 9am – 6pm daily (last tram departs stop 1 at 5pm). Open 9:30am – 2pm on Christmas Day.
MINIMUM AGE: There is no minimum age but for safety reasons children must be accompanied by a paying adult
Explore Christchurch with an All-Day Tram Pass
The Christchurch Trams offer a unique experience combining history and sightseeing. Family-friendly and ideal for locals and visitors alike, our beautifully-restored heritage trams are one of the city's most iconic and best-loved attractions – and don't forget kids go free!
Our all-day hop-on hop-off tickets allow you to visit the central city sights at your leisure and our friendly and knowledgeable drivers will keep you updated about the latest city changes in their informative live commentaries. Purchase your tickets online, from our drivers, or at our Tram Shop at stop 1.
The journey begins at Cathedral Junction and travels through Cathedral Square before passing the Avon River, Cashel Street and High Street. From here the Tram travels back through Cathedral Square and along Worcester Street, Rolleston Avenue, Armagh Street and New Regent Street before arriving back at Cathedral Junction. There are 18 stops en route and the full circuit takes approximately 50 minutes to complete.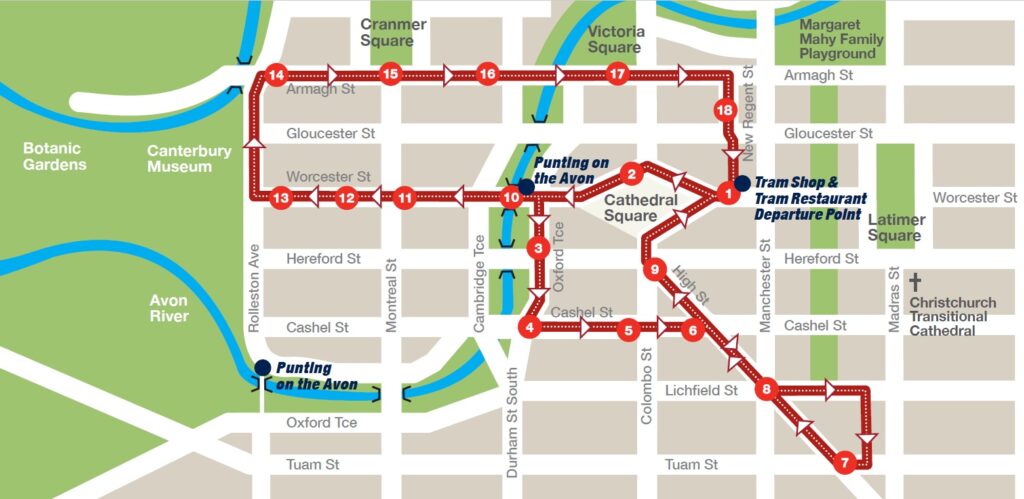 Explore the best of the central city from our various stops: the Canterbury Museum & Botanic Gardens, Tūranga, and Margaret Mahy Playground are must-visit spots for families; and the many retail stores, bars, and eateries at The Terrace, Cashel Street & Riverside Market, SALT District, Arts Centre, and New Regent Street offer fantastic shopping and dining options for all. For frequent visitors, we recommend our great-value Tram & Gondola Annual Pass – perfect for locals!
Our Tramway Restaurant departs from Cathedral Junction at 7:00pm March – October and at 7:30pm November – February. Bookings essential.
Children are classed as being 5-15 years of age and infants under 5 years of age. Up to three children may ride free of charge per paying adult, and tickets can be purchased for $5 each for additional children. Infants are free of charge.
The inside seats are cozy and secure, but please note outside seats are not weatherproof. Children must be accompanied on the Trams at all times by a paying adult. For safety reasons, we allow one adult to supervise up to five children or infants aged 15 years and under. As in any city street, you must keep children safe in traffic. A small number of folded prams can be accommodated on board the Trams.
There are plenty of on-street and off-street parking options along the Tram route: see Christchurch City Council's website for parking locations.
For those arriving by bus, the Christchurch Bus Interchange is a one-block walk from stops 5 and 8, and the Manchester Street Super Stop is a one-block walk from stop 1 in Cathedral Junction.
What people say
Very informative. Driver was very knowledgeable of the area, post buildings and future developments. Great overview of the city.
Unique experience in Christchurch! Catch the Tram and take a tour of the city centre. There are stops at most of the tourist spots around town. The whole tour takes around 50 mins all the way round. Detailed commentary from the Driver onboard. Kids travel free with a paying Adult (Up to 3)
Fabulous staff made me and three pre-schoolers very welcome. Love the commentaries, I always learn something new.
Really enjoyed our experience. The tram itself is beautiful and a fabulous way to see the inner city. The driver was pleasant and entertaining.
Perfect way to see Christchurch. Includes: Tram 1 day pass, Gondola entry and Punting on the Avon ride.
Explore Christchurch from the city to the hills. So much to see! Includes: Tram 1 day pass and Gondola entry.
Experience central Christchurch by river and rail!
Includes: Tram 1 day pass and Punting on the Avon ride.
Unlimited rides on the iconic Christchurch Gondola and Christchurch Tram for 12 months!