Our attractions are open at Alert Level 2! Here's what you need to know for your visit:
Please ensure you either scan in using the NZ Covid Tracer app or manually sign in using the register provided at each site for contact tracing requirements. In line with Level 2 requirements masks will also need to be worn at our attractions (including on board the trams). We encourage guests at all of our attractions to make use of the hand sanitiser available for our customers.
The Christchurch Gondola will be open from 10am until 4pm daily, with the last cabin departing from the summit station at 4:30pm. Single-entry tickets are available as well as Annual Passes allowing unlimited rides on both the Tram and Gondola for a whole year – a great idea for locals who visit one or both attractions frequently. In line with Level 2 requirements we'll be ensuring social distanced seating in our cafe (please note there will be a maximum capacity of 100 people) and doing regular cleaning of high contact areas including our cabins and other areas.
Hanmer Springs Attractions will be open from 9:30am until 5pm Thursday – Monday (closed Tuesdays and Wednesdays) during September before opening daily during the October school holidays. Join us for the full range of adventure activities on offer: with Jet Boating, Bungy Jumping, Quad Biking & Buggies, Rafting & Canoeing, Clay Bird Shooting and Paintball there is plenty to get your adrenaline pumping! Some of the activities will be operating a little differently due to the Level 2 requirements, so please make sure you follow the instructions from our team.
Punting on the Avon will be open from 10am until 4pm daily at the Antigua Boat Sheds. The team will be ensuring that guests are socially distanced on board and will be carrying out regular cleaning of high contact areas, including disinfecting seats and blankets between tours. With daffodils, magnolias and blossom in bloom in the Botanic Gardens, spring is a great time to punt on the Avon! Bookings essential.
The Christchurch Tram will be running from 10am until 4pm daily. The all-day tickets are perfect for exploring Christchurch's inner city and the last tram departs from Cathedral Junction at 3pm. Social distancing will be in place on board so there will be limited seating, and the drivers will be cleaning high contact areas of the trams regularly. Please also make sure you scan in when hopping on board each tram.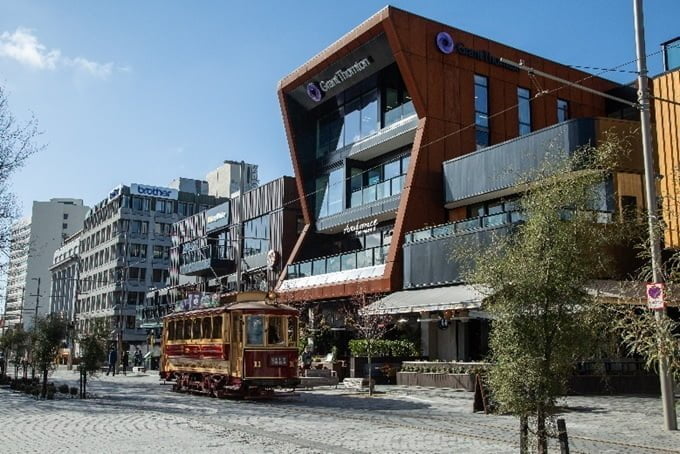 The Tramway Restaurant will reopen on Thursday 30 September. The tram will have partitions between our tables and limited seating due to social distancing requirements: our staff will advise you of additional procedures before your booking date. Bookings are essential and can be made online or by phoning 03 366 7830 to speak to our reservations team.
We look forward to seeing you at Christchurch & Hanmer Springs Attractions!