Bungy jumping is a must-do activity in New Zealand: whether you're an NZ local or a visitor it's well worth getting your adrenaline high in the country where commercial bungy jumping began! Our 35-metre jump off the historic Waiau Ferry Bridge at Hanmer Springs Attractions is a great way to ease you into bungying – here's our how-to guide.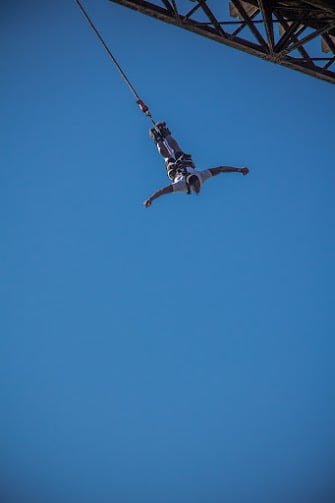 Safety first – bungy jumping involves either an ankle harness (tied around your ankles only) or a full body harness (tied around your torso). At Hanmer Springs Attractions we offer full body harnesses for extra safety, and we are approved by Qualmark and OutdoorsMark who assess our health and safety procedures regularly
Don't look down – our top tip if you're feeling a bit nervous is to not look down when you're on the platform! Keep your chin up and look straight out instead to take in the amazing scenery
Just jump – it's easy to descend into a bundle of nerves if you hesitate to jump when the staff are counting you down, and the more you wait the tougher it will be to take the leap. Try to take a deep breath and focus on jumping straight away at the end of your countdown
Keep your eyes open – it's a natural reflex to squeeze your eyes shut once you've jumped, but try to remember to open them up so you don't miss the view on the way down
Bungy jumping is heaps of fun, so if you haven't already done a jump make sure you visit us on your next trip to Hanmer Springs. We've got a sweet deal for you for jumps during November: enter the promo code BUNGY20 at the checkout when booking online via our website to receive $20 off the ticket price!